Between 28 and 30 May, I finally took my Dad away for a weekend to Suffolk and Norfolk. I had been meaning to do this for over a year. I hired a car, booked two rooms in the Crown Hotel, Mundford (my room was behind the window in the picture below) and drove off under overcast skies. Luckily it's my Dad's favourite sort of weather. He gets too hot in the sun.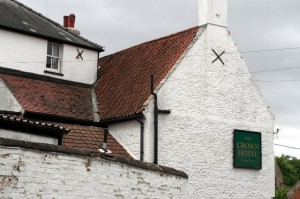 On arriving, we dropped off our bags and set out on the five minute drive to the centre of Thetford Forest. I've been reading Roger Deakin's books all year – slowly, so that they're not over so quickly, I've been breathing them in and living with them and they've had a very strong influence on my thinking this year. As I write this, I finished 'Waterlog' last night and started on 'Notes from Walnut Tree Farm'.
We drove to the High Lodge Forest Centre through Santon Downham, down magical avenues of trees, feeling somehow as if we weren't supposed to be there, the even tarmac having no markings and seeing no-one else. The High Lodge itself is only accessible through a barrier which issues a ticket. Depending on the length of stay, you are charged accordingly. It was a bit commercial for our snobbish tastes, featuring a rather macho survivalist camp being built – looking like the kind of thing you'd torture enemy soldiers in. There were lots of other less combative family-oriented activities; I dare say my daughter would have loved it. We resolved to make the most of the hour we had left – yes, this part of Thetford Forest has opening times – and took one of the smaller circular walks. On the way, we came across a dry meadow washed with a rusty red colour. Wondering what did this, we found a tiny sorrel which might be Rumex thyrsiflorus.
I'll upload more plants and thoughts later (I hope)