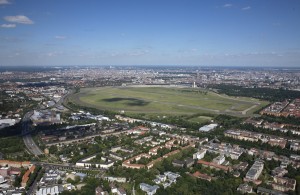 Sophia and I are having a very good time teaching some of the first year BA Dance, Context, Choreography students at the HZT this week and for the next two weeks. We're leading a workshop we've called "Choreographing the City". Whether you choreograph the city or whether it choreographs you is a point we return to.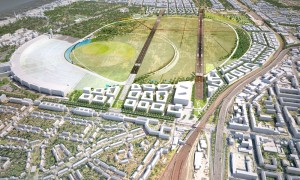 When I proposed a project I've been dreaming about for a long time, to make a GPS drawing of Tempelhofer Feld (the former third Berlin airport and now open space) before it gets cut up and built upon, the students were, to my surprise, immediately enthusiastic. This space is extraordinary and unique and in my opinion should remain in its entirety but I fear that a broke city will not be able to turn down the income that building on it will bring (in the short term and much to the impoverishment of the people that use it).
So, armed with bicycles to draw the remaining marks of this historical area in the short gap between its decommissioning as an airport and its partial closure to make more expensive apartments, we will set out on Tuesday, weather permitting, on a surveying-cum-artwork-cum-archeological trip to at least begin to digitally capture an aspect of its wonderfulness.
The citizens campaign to keep all of the Tempelhofer Feld as open, public space (hooray): https://www.thf100.de/start.html
OK, no prizes for web design, but hearts vehemently in the right place.
The official state site, pretending to be neutral (boo): https://www.stadtentwicklung.berlin.de/planen/b-planverfahren/de/fruehbb/tempelhof/
Nauseating commercial site, pretending its all going through, complete with architects porn (mucho boo): https://www.tempelhoferfreiheit.de/