Having met at the
Humboldt University Library Mensa
(about the best place to eat in that part of town I think),
Martin
and I set out down the banks of the Spree for a jolly equinoctial exploration of likely sites in Tiergarten. We're both kind of looking for a place to perform some deeper and repeated experiments over a longer period of time, rather than just one-off explorations (
here,
here
and
here
), fun as they are. Starting point was the strange semicircular arrangement of empty pedestals we explored during his
Monument.Skin.Excavation
workshop which we traversed twice to get drawings of, making sound recordings.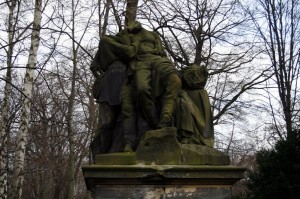 It was spring in Tiergarten and the workmen were busily renewing paths with strange ground-shaking machines.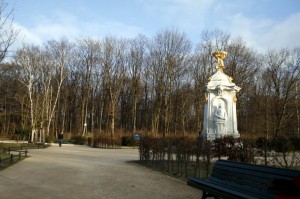 Near this site, the newness of which attracted us through the still-bare trees, we stopped and discussed the
geometry of stone circles
,
psychic archaeology
, dowsing and writing applications for funding.
The walk ended in this curiously Ballardian conjunction of park idyll and diverted motorway, a thundering trunk road plunging beneath the supposedly tranquil Tiergarten. In true Ballard fashion, the bushes in front of this security fence were littered with toilet roll and used condoms. This strange blue sigil was either tossed and caught as rubbish or else signifies something in the undergrowth world of cottaging. Potsdamer Platz rises Emerald-City-like in the background.
The hunt goes on.
[UPDATE]
You can hear Martin's edited recording of this adventure called 'Substrat Radio 10' originally broadcast on Reboot FM here.